As summer gives way to fall, Honor continues to recognize our outstanding Care Pros, who are setting a new standard of care for older adults every day. We're grateful for the professionalism and compassion these amazing human beings show to their clients and co-workers. Each one of them deserves our attention, our praise, and our respect.

September's All-Stars were selected by their Client Managers and Care Pro Relationship Managers. While managers consider nominees, they look at each Care Pro's record of dependability, consistency, and positive visit reports, as well as stories of Care Pros going above and beyond our already high standards. The September All-Stars you're about to meet stood out this month for their dedication to living the Honor Values:


Solve with Empathy
Own the Outcome
Act with Honor
We're so lucky to work with these wonderful individuals.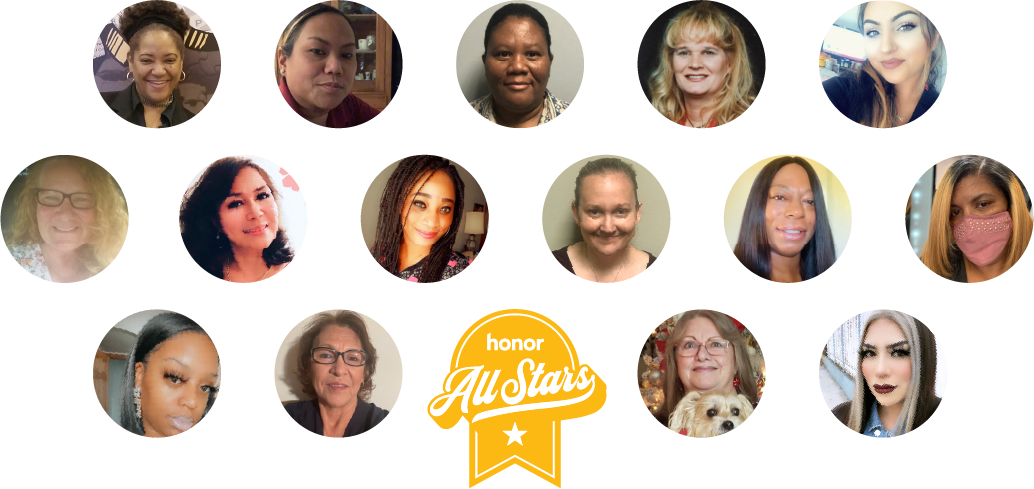 Arizona All-Stars
---
Phoenix Valarie Holdman
Valarie continually demonstrates the Honor value, Act With Honor. Valarie has provided over 400 visits with Honor and is extremely consistent, always giving over a week's notice when she needs to take time off. Valarie has provided excellent care for one couple over the past 4 months and for previous clients. She is understanding, kind, courteous, professional, compassionate, dedicated and motivated. Valarie always goes above and beyond for her clients and she just brings a lovely smile to your face! Honor is truly lucky to have an all-around person like Valarie. She is the definition of an All-Star Care Professional. Go Valarie!
—Sonya M., Care Professional Relationship Manager

Tuscon Sandra "Sandie" Walsh
Sandie has been an amazing Care Pro from her first day on our platform! She cares so deeply for her clients, takes such pride in her work, and always remains professional. She quickly becomes a "favorite" at any client's home and is someone they truly value and can rely on. Her dedication and positivity are unmatched. I could not be more grateful to have someone like Sandie on my team!
—Vanessa L., Client Manager



California All-Stars
---
Los Angeles Joetta Golden
Since day 1, Joetta has been extremely reliable, dependable, and consistent. She is a hard worker and is always willing to help out with extra visits—she would probably work 24/7 if she could. Joetta truly cares about her clients and always gets great feedback from her clients and their families. She currently works with a client who needs a lot of support and encouragement. Joetta has been dedicated to motivating her and providing her with the exact care that she needs. The client's family has been so happy and appreciative. I have recognized the impact Joetta has had on the lives of our clients and I also appreciate her very much. She is special and deserves to be recognized.
—Rachel R., Client Manager

Monterey Bay Eleanor Osorio
Eleanor, thank you for going above and beyond to support your clients. We appreciate you working long hours and filling in when needed, especially when we're short staffed at certain times and need to reduce new faces for clients. Your consistency and commitment does not go unnoticed. Thank you for all you do and keep up the great work!
—Kelsie T., Pod Associate

Orange County Jessica Morales
Jessica is a dedicated care pro with a good heart. She has worked with some of our clients who have very complex needs during her time here at Honor. Jessica is a great teammate. She's always willing to trade, fill-in, and help with shifts for her live-in client, to make sure they get the care they need.
—Carrie D., Client Manager

Sacramento Juanita Gray
Every client loves Juanita. She is very good at what she does, from helping clients create a routine, to just showing empathy when someone is not at their best. She shows dedication to her clients and will do anything to help. Juanita is a true workhorse.
—Sheena S., Care Pro Relationship Manager

San Diego Eileen Benedict
Eilene has been an amazing Care Pro with Honor and more importantly with her client who recently passed away. She was a pillar of strength for his family, who really counted on her during the last days, and she did not disappoint. She was there until the very end and his family let us know how much she helped their father. They said they could not have managed the past couple of years without her. She went above and beyond in her client's last days and is a valued member of the San Diego team!
—Gina M., Care Professional Relationship Manager

San Francisco - East Bay Raihanatou Agne
Raihanatou is an outstanding Care Pro. She is dependable, professional, and caring. She has been an instrumental aide to several Honor clients in a range of settings, including facilities, where she has further demonstrated her reliability in following facility guidelines and COVID safety procedures. Raihanatou goes above and beyond to help. In a recent example, she extended her day while caring for a facility client to stop in and check on another client at the same facility after an unexpected call-off had occurred. Thank you, Raihanatou, your hard work and dedication are truly appreciated!
—Shannon L., Care Professional Relationship Manager

San Francisco - South Bay Marilou Panlaqui
Marilou, not only gives our clients the care that they need, she gives them the love, patience, and encouragement they deserve. Marilou has been with Honor for over three years and her dedication, compassion, and experience always shine through. The family she is working with currently could not be any happier with the care that Marilou is providing. Marilou, we are grateful for all the work that you do and can tell that serving others is in your soul. Thank you very much. We are privileged to have you on our team.
—Donna S., Sr. Client Manager & Kathy K., Care Professional Relationship Manager

Santa Barbara/Ventura Leah Robles
Leah has been an outstanding Care Professional in the two years that she has been with Honor. She has made many lasting relationships with her clients and she goes a step further to make them feel safe and cared for. She is dedicated, dependable, and treats her clients like family. She goes above and beyond to provide exceptional care and we are so lucky to have her on the team!
—Sarah B., Client Manager

Sonoma/Santa Rosa Cynthia Johnson
Cynthia is dedicated, kind, extremely hard-working, thorough, compassionate, professional, reliable and she pays attention to detail. These attributes she possesses. However, if you know Cynthia, you know she exudes much more. The Honor value that Cynthia most embodies is Solve With Empathy. Cynthia travels via Lyft quite frequently with her client. And as many of us have experienced, there can be delays or issues when scheduling rides. Cynthia always remains calm during these times. She keeps her client safe and happy, and helps the team to problem-solve when needed. Cynthia is also polite and upbeat when speaking to the Market Associate and Partner Team, which is appreciated by those she interacts with. Cynthia is a true asset to Honor's Care Team. Thank you!!
—Lauren W., Client Manager



Florida All-Star
---
South Florida Ruth Theoc
Ruth exhibits the quality of a true team player and wonderful Care Professional. Ever since I started working with Ruth, she has been kind, courteous, reliable, and an all around pleasure. Ruth goes above and beyond to help her clients and is an asset to the Honor team. Ruth is well known among the Florida team and praised by all.
—Krystal T., Sr. Care Pro Relationship Manager



Michigan All-Star
---
Detroit Regina Hughes
Regina is a true all-star in every way. Clients and families have immediately sent texts when they see her come through the door, saying that they are "thrilled" to see her and wish she could be there every hour of every day. She is wonderful to work with and will do whatever she can to help her co-workers and clients, without hesitation. Thank you Regina for being an amazing part of the team. We couldn't do it without you!
—Kayla G., Care Professional Relationship Manager



Missouri All-Star
---
St. Louis Brittney Horton
Brittney exemplifies what it means to be an Honor All-Star. She is kind, courteous, communicative, dependable, professional, and truly puts her heart into her clients. I am so grateful to have her on the St. Louis team! Thank you, Brittney, for all you do!
—Allison R., Client Manager



New Mexico All-Star
---
Albuquerque Mary Norfolk
It's so great to have Mary on the team. She is kind and thoughtful, and demonstrates Honor's value, Act with Honor, by her dedication, compassion, and advocacy for her clients. She is always a favorite, and her reliability and communication are top notch. Thank you Mary for all that you do! You're truly one of a kind and our clients (and I) are lucky to have you.
—Terri K., Client Manager



Ohio All-Star
---
Cleveland An Amazing Care Pro Who Wishes to Remain Anonymous
This Care Pro, one of our most naturally talented, has been with a client who requires the utmost patience. He is reliable, detailed in his care notes, and takes our core value, "Solve with Empathy" to a whole different level. The world would be a much better place if it had more Care Pros like him in it!
—Jacque McK., Client Manager



Texas All-Stars
---
Dallas Another Amazing Care Pro Who Wishes to Remain Anonymous
This Care Pro has been a rock for our families in Dallas and we're so happy to have her expertise and time. She's dependable, hard working, and consistently there for those who need her.
—Hilary A., Client Manager

San Antonio Nelva Trejo
Nelva, Nelva, Nelva! She makes you smile! Her presence is warm and she puts you at ease immediately. She is a true gem and an absolute All-star! She is reliable and always willing to do whatever it takes to help her clients. She's a natural caregiver and her clients love her. Thank you, Nelva, for all that you do!
—Katy B., Client Manager



We're humbled and inspired by these amazing Honor All-Stars. Be sure to stop by the blog next month to read about our October All-Stars.

If you're interested in a career as an Honor Care Pro, you can learn more here.