There's no shortage of cutting edge technology out there. And any engineer worth their salt likely has to swat away job offers on a regular basis, including our own engineers here at Honor (they're all worth their salt, and then some). And yet, they hold steady at Honor, to build new technology aimed at helping seniors age on their own terms. When you think about it, this is work that will have an impact for generations.

The team builds operating systems and apps—a lot of really cool apps—used by caregivers (Care Pros), home care agencies, and families. With an average tenure of 3+ years, Honor engineers are a rare breed in the churn-tastic start-up world. We sat down with a handful of them to find out what drew them to this work, and what keeps them doing it.





Four years ago, Camille Long knew she wanted to work for a mission driven company focused on health care. "First, I was excited about Honor's mission, to change how we care for parents. Then, during the interview process, I could see that the team really valued soft skills. They asked me things like, what's my motivation to work here and how do I resolve conflict, whereas other companies just asked me a bunch of algorithm questions.

Once Camille started, she was blown away by how quickly her work could impact Honor's clients. "At my last job, I built so much stuff that never went out to customers, which was really frustrating as a young engineer. My first project at Honor was a small update in the app—it was released the same day I wrote it."





"Senior care wasn't on my radar at all when I applied to Honor," admits engineer, Brian Lubars. "I was apprehensive at first because I knew nothing about home care. But then I thought, these are human problems. We all have parents. This is something that's really important."

Brian was also looking for a mission driven company where he could work on something that could help real people. "I wanted to transition to full stack development and a smaller team where I could work more hands-on and develop leadership skills. That wouldn't happen at the large company I was working at before coming to Honor. Here I can own the development of a project through design, estimation, scheduling, tracking, all the way to the end."




Honor's recent acquisition of leading global home care network, Home Instead, will effectively triple their R & D investment. So Alan Talanoa, who left Lyft this year to join Honor as VP of Engineering, is in the process of scaling up his department, big time. But he wants to do it strategically. "Acting with intention is the biggest thing. Folks who are further into their career will recognize how important that is. We're actively looking for engineers who are open to touching front and back end, as well as mobile—engineers who want to build a lot."

We asked Alan what he thinks is drawing top engineers to Honor. "Obviously, the work we're doing here resonates most with folks who have a mission orientation. Also, everyone who works here knows exactly how what they build helps our users. That's really satisfying for engineers."






At her last job, Harshitha Rajendra was one of fifteen engineers. "I was the only woman, so I felt like I had to work extra hard to represent females. At Honor, you don't have to think about yourself as a "female engineer." There are a lot of women on the team. "

When she started looking for a new job, she was living and working in New York. In her down time, she volunteered to visit home-bound seniors, bringing companionship and helping them with shopping or other light tasks. When she learned about Honor's mission, she knew she had found the perfect fit. The sugar on top: "It's a super collaborative work environment. These are just really great people to work with. And so often, we get to hear stories about how the work we're doing is helping our partners or the people in the field provide better care for seniors."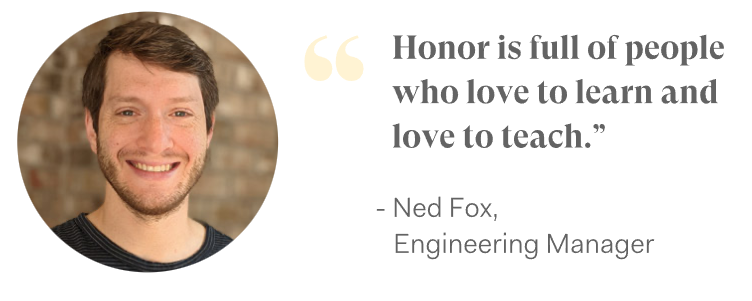 One of the first people Honor's founders brought onboard was Ned Fox. Six and a half years later, he's still here, managing a team of engineers focused on Honor's Care Pro app. Some of his favorite challenges involve knowing where to draw the line on automation.

"A lot of the time, we're building the technical layer between people. For instance, Care Pros and clients: we could create a rigid algorithm for matching them. But what we found works better is to allow for some flexibility in our algorithm, giving a greater number of Care Pros the choice of applying to work with a client, even if a couple of criteria don't match up exactly. You can't automate relationships."

While some of Honor's engineers point to family members who have needed or provided home care as their motivation to join in our mission, many have yet to enter that phase of life. But we all know it's out there for our grandparents, parents, and one day, for us. So developing the best possible experience of aging is personal for everyone here. And what we see is that folks who think about this kind of thing just tend to be wonderful people.

If you're interested in learning more about Honor's engineering team and the work they're doing, visit this page. And if you'd like to join our growing team, visit our careers page.